House Painting in Arlington Heights, Massachusetts
Looking for a House Painter in Arlington Heights, Massachusetts?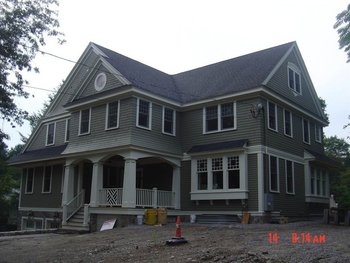 Yes? Congratulations, you found one!
But you didn't find just any old house painter. Torres Painting Inc has been proudly painting homes in Arlington Heights, MA since 1999.
Painting the exterior of your Arlington Heights house protects it from the elements, helps retain home value, and makes it presentable. Interior painting can brighten walls and ceilings and lift one's spirit's.
When looking for affordable high quality house painting Arlington Heights home owners can count on, no one beats Torres Painting Inc's experienced painters. If you have ever tried painting your Arlington Heights home, you know that its not an easy task.
Painting houses is both a skill and an art. That's why Torres Painting Inc's professional house painters must have several years of experience painting houses in and around Arlington Heights, MA and be familiar with Arlington Heights's various residential architectural styles and building materials used in house construction over the years.
---
Call for FREE House Painting Quote
---
WHAT CUSTOMERS ARE SAYING:
5★★★★★ - "I had the exterior of my home painted by Torres Painting Inc recently. Prior to then, the house and shutters were a dark brown and exterior and garage doors beige. House had not been painted for more than 10 yrs.There was alot of rotten wood which had to be replaced before the preparation work could be done. The crew of Torres did an amazing job preparing the house for a much lighter color. House was sanded, caulked and many clapboards replaced. This was followed by a primer and 2 coats of a light gray. Trim was then painted slate gray. Torres also restained the porch floor and painted the ceiling white. All rod iron railings were sanded before repainting them black. The finished product is clearly a masterpiece and reflects Walter's standard of high quality work that he,his crew and home owner can truly be proud of. All who have seen the completed job agree that he and his crew are excellent painters. All satthat the finished product is beautiful and adds elegance to my home. It is brighter and because of the color change-light to dark-the house looks much larger. Walter and his crew were easy to work with.They listened to my concerns and questions in a friendly and respectful manner. Always friendly, courteous and respectful, they were a pleasure to have at my home. Also, very efficient and hard working, arriving early and staying late so as to complete what was planned for each day. I would definitely recommend Torres Painting and should I need further painting would only call Torres. I am sure any who use this company will be happy with the completed project."

CB, House Painting in Westwood, MA

2012-08-29

5★★★★★ - "We just used Torres Painting for staining our deck and we couldn't be happier! Walter is easy to work with, affordable and gets the job done in a timely manner! His crew is also very polite. I am very happy and will be calling them for future projects!"

Anonymous in Framingham, MA

2019-04-08

5★★★★★ - "We hired Torres Painting to paint the exterior of our house. Our home had not been painted in quite a few years and was in need of a thorough prep job and some light carpentry of minor rotted area's. The crew who painted the house were professional and took pride in their work. They were organized, efficient and did a great job keeping the work site clean during the project. Our house looks fresh, clean and beautiful and they executed the entire project on time and as promised in their written estimate. Thank you, Walter and crew, for a job well done. We highly recommend Torres Painting for quality painting and professional service."

Nick and Michelle in Plainville, MA

2018-09-25

5★★★★★ - "Professional, thorough, anticipatory, friendly"

Kate Wright, Painting in Norfolk, MA

2018-08-27

5★★★★★ - "We hired Torres Painting to paint the exterior of our house. They did a wonderful job! The crew was polite and extremely skilled. They cleaned up after themselves every day to the point you didn't know they were ever there. Very competitive price too! I will absolutely call them again."

Debbie in Walpole, MA

5★★★★★ - "Great painters"

Home Owner, Painting in Framingham, MA

2017-05-30

5★★★★★ - "Walter and team did a fantastic job painting our kitchen cabinets and updating the hardware. Their work is flawless and we're so pleased with the outcome!
Also, Walter painted two of our bedrooms (windows, trim, walls). They were wonderful and saved us from weekends of work away from our kids trying to do it ourselves.
Looking forward to hiring Torres Painting for more jobs in the future!"

Lindsay in Framingham, MA

5★★★★★ - "Walter Torres and crew transformed our home! Family room, kitchen cabinets, kitchen paint, dining room wainscoting, paint, living room, foyer... all look brand new. His design sense is impeccable and his team arrived on time every day! Walter's rates are very competitive and he finished on-time, taking care of every detail and caring about the finished product and our satisfaction. We could not be happier!"

Dave H., Interior Painting in Ashland, MA

4★★★★☆ - "We hired Torres Painting for a small wall paper removal/paint job. Mr. Torres was very responsive through the entire project. Communication was always very good. Price was reasonable. Work was done with a slight initial delay, but then completed in a very timely fashion. Quality of work was excellent. People on site were courteous."

Jacqueline T., Wallpaper Removal in Acton, MA

5★★★★★ - "Walter Torres is a true professional. The first level of our home has been transformed! Walter's work is impeccable, and his design sense fit ours perfectly. Walter is unique - he sets expectations and meets them. He was on time, under budget and always let us know if there was any change in plan. He will now be renovating our master bathroom!"

Dave Hatch, Painting in Ashland, MA

2017-01-03

5★★★★★ - "Walter and his crew did a beautiful job transforming our kitchen. They painted the original oak an antique white and added crown molding. They were on time, super clean and very professional. I would highly recommend their services. We are very happy!!!"

Rhonda in Plainville, MA

2016-04-15

5★★★★★ - "Torres painting recently did some work at my home this past November 2015.  They painted the basement including trim and walls.  In the garage they painted ceiling, walls and floor and refinished my cabinetry in the kitchen. All work looks exceptional and was done in a professional manner.  The cabinet doors were taken off, degreased and cleaned and then primed and painted.  Walter also changed out the hardware.  They look beautiful.  Every day they prepared the area with drop cloths to protect the flooring.  The areas were clean and tidy when they left for the evening.  Very happy with Walter and his crew."

Michelle L., Painting in Cumberland, RI

2016-02-08

5★★★★★ - "I have been using Torres Painting Inc. for about ten years- wouldn't use any one else. Walter is a true professional. He is on time for appointments, he really listens to what you want, he is able to give advice on painting colors, his work is flawless, and he is respectful and trustworthy. He tries very hard to work within your schedule, but he doesn't make promises he can't keep. He is pleasant to deal with and always returns your call. Working with Walter is a very satisfying experience."

Martha Brandt, Painting in Wellesley, MA

2015-06-02

5★★★★★ - "Courteous, a pleasant demeanor, hard working, meticulous attention to detail, clean and tidy - that's what you'll get in a paint job from Walter Torres and his crew. I have now had three separate paint jobs done by Walter and the quality of his work is outstanding, from preparation of the walls to touching up a completed project. He has done one large job (complete interior of my house with trim work) and two smaller (interior) jobs and for me. Walter's reliability is also a plus - we felt very comfortable leaving him to do his painting while we were out of our home and he would clean up and lock up behind him. You can count on a high quality paint job and you'll have peace of mind knowing you don't have to worry about incomplete or shoddy workmanship - in my opinion, that's half the battle in finding a good painter!"

Hema, Painting in West Roxbury, MA

2015-06-02

5★★★★★ - "Over the last 5 years we have utilized the painting services of Torres Painting. They have painted our town homes, the homes of two friends, our mother's home on Cape Code and our sister's home in Westborough (interior as well as exterior). We are very happy to say that the workmanship has been excellent. They pride themselves on the preparation aspect of the endeavor. As any paint job requires, the preparation is as important as the paint job itself. The painting job is as fine as we have ever encountered in our many dealings with painting contractors. Every small defect in the surface that needs painting is promptly addressed. One of our major concerns with any painting job is the cleanliness of the work site. We could not have been more pleased. At the conclusion of every day the site was as if no one was in the midst of painting a home, whether inside or out. We were equally impressed at the professionalism of Walter and his crew. They are clean, quiet and worked diligently every hour of the day. We have 100% trust in the capabilities and personalities of this fine company. As far as we are concerned, we would recommend Walter and his crew to anyone we know. The name Torres to us means - trustworthy, timely, reliable, responsible, and spotless. Needless to say, we will continue to use this company in any and all future painting projects."

Bernie & Eileen Meggison, Painting in Waltham MA and Harwich MA

2015-06-02

5★★★★★ - "We hired Torres Painting to paint a brand new family room we had added to our home. We found Torres Painting to be very efficient,speedy, professional, courteous, thoughtful, and reasonably priced as well! The finished work is just beautiful!"

Anonymous, Painting in Arlington, MA

2015-06-02

5★★★★★ - "I recently had the exterior of my house painted by Walter and his crew. They were extremely easy to work with, very punctual and always kept me updated on their progress. I'm in the process of selling my home and they understood the urgency of the situation, completing the job in less than a week. They scrapped, caulked, replaced shingles, primed and painted both the house and the trim. The house now looks fantastic! I highly recommend Torres Painting and would not hesitate to use them again for additional projects."

Kara Gremillion

2014-01-03

5★★★★★ - "Thank you for the kind words!  I feel the same about you and am going to miss seeing you.  Not only have you been an outstanding professional to work but you are a truly a wonderful person.  Your integrity is above reproach and it has been an honor to work with you! All the best!"

Dan, Painting in Arlington, MA

2013-01-04

5★★★★★ - "We have hired Torres Painting to do many projects around the house. They are extremely efficient, courteous and perfectionists. With the ice-dam damaging the inside of our ceiling we were unsure as to what can be done, Walter  worked on it and it was better than new. Our house was the envy of many in our neighborhood after they did an awesome job with the exterior painting. We look forward to working with Torris Painting in years to come."

Marista, Exterior Painting in Grafton, MA

2012-08-29

5★★★★★ - "Torres Painting both painted my office and built cabinets and a counter top. Walter arrived when he said he would, did a first-rate job, and left the office clean and looking like new. I plan to hire Torres Painting to do all my future painting and small construction jobs in my office."

Dr. Linderman, Commercial Painting in Brighton, MA

2012-08-29
---
Call for FREE House Painting Quote
---